A while back I talked about the most common decorating mistakes people make (if you missed it you can read the article online
here
)
. Now that the warmer weather is here (I think!), it's time to focus on the outside of the home too.
Many people focus on their home's interior and ignore the outside - but it's the first thing people see. And unlike the interior,
everyone
can see it, not just the people who come inside.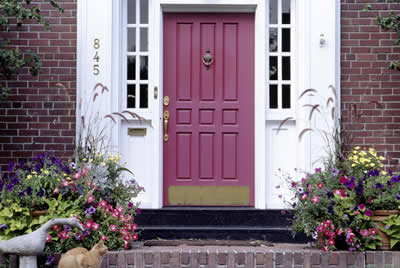 The most c
ommon outdoor decorating mistake starts at one of the most important areas in terms of making your home look attractive - the front door.
Many people either ignore it or paint it a colour that does nothin
g for their curb appeal (or worse, works against it!).
The front
doo
r is a big part of how your house looks. For such a small surface area, it has a huge effect! The wrong colour on the main door makes the colour of the house look "off". The right front door colour can pull everything together and make your home look inviting.
You want to choose a colour that stands out but that works with the rest of the home - brick, stone, trim, accents, etc. (And this colour is very rarely, if ever, white - don't be afraid of colour here!) Take into account the different colours found in the brick, whether the colours are warm/cool, dull/fresh, etc.
A small can of paint and a few hours will make a huge difference in the look of your home!